Our Pastoral Team
Father Bernardo Cardona (Co-Pastor)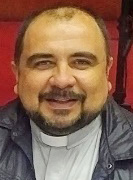 Ordained to the priesthood December 2018; Father Bernardo Cardona completed his philosophical and theological studies in his native country of Colombia. He has a degree in Education with concentrations in Religious Sciences, pedagogy, management and community development. Father Bernardo has a beautiful family— his wife Luz, 2 adult sons and two younger children who assist as altar servers. He has served as an educator and in management positions of organizations dedicated to the protection and development of at risk communities. Father Bernardo is currently serving as Director of a school of adult education preparing candidates to receive their GED. He is member of the board of directors of Angels in Action in New Jersey, where he advocates for the Hispanic community and immigrants. Since the beginning of 2018, he started a position in a day care center for people with disabilities, where he offers spiritual support and collaborates with special projects. Father Bernardo Believes that God has blessed him by leading him to the American National Catholic Church, where he can live out the multiple vocations to which God has called him— husband, father and priest. Ordained to the diaconate in 2018; Father Bernardo continues his formation toward ordination to the priesthood through his work at Sacred Heart of Jesus ANCC as well as serving as a member of the Formation Team for seminarians in the ANCC. Part of the focus of his ministry is to support the growth of the church especially within the Hispanic community, to contribute in the process of formation of new seminarians, to support co-pastor Father Jim Jakubowski in various pastoral projects. Father Bernardo is especially assisting with the integration of the Spanish language into the weekly liturgies and activities of Sacred Heart. Father Bernardo holds the community of Sacred Heart of Jesus ANCC close to his heart because he has been able to exercise his ministry and feels that he has learned a lot from everyone. Father Bernardo speaks fluent Spanish and welcomes any who wish to speak to a Spanish speaking clergy to contact him directly.
E

l Padre Bernardo Cardona completó sus estudios filosóficos y teológicos en su país natal, Colombia. Es licenciado en Educación con concentración en Ciencias Religiosas, Pedagogía, Gestión y Desarrollo Comunitario. El Padre Bernardo tiene una familia hermosa: su esposa Luz, dos hijos adultos y dos niños más pequeños que ayudan como monaguillos.
Ha servido como educador y en posiciones gerenciales de organizaciones dedicadas a la protección y desarrollo de comunidades en riesgo. El Padre Bernardo actualmente se desempeña como Director de una escuela de educación de adultos preparando candidatos para recibir su GED. Es miembro de la junta directiva de Angels in Action en Nueva Jersey, donde aboga por la comunidad hispana y los inmigrantes. Desde el comienzo de 2018, comenzó un puesto en una guardería para personas con discapacidades, donde ofrece apoyo espiritual y colabora con proyectos especiales.
El Padre Bernardo cree que Dios lo ha bendecido al conducirlo a la Iglesia Católica Nacional Estadounidense, donde puede vivir las múltiples vocaciones a las que Dios lo ha llamado: esposo, padre y sacerdote. Ordenado al diaconado en 2018; El Padre Bernardo continúa su formación hacia la ordenación al sacerdocio a través de su trabajo en el Sagrado Corazón de Jesús ANCC.
Parte del enfoque de su ministerio es apoyar el crecimiento de la iglesia especialmente dentro de la comunidad hispana, para contribuir en el proceso de formación de nuevos seminaristas, para apoyar al Padre Jim Jakubowski en varios proyectos pastorales. El Padre Bernardo está especialmente ayudando con la integración del idioma español en las liturgias y actividades semanales del Sagrado Corazón.
El Padre Bernardo mantiene a la comunidad del Sagrado Corazón de Jesús ANCC cerca de su corazón porque ha podido ejercer su ministerio y siente que ha aprendido mucho de todos.
El Padre Bernardo habla español con fluidez y da la bienvenida a cualquier persona que desee hablar con un clérigo de habla hispana para contactarlo directamente.
Father Jim Jakubowski (Co-Pastor)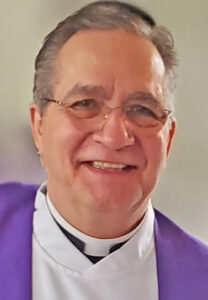 Fr. Jim was ordained to the priesthood in June, 2022, having come to the ANCC through an invitation to Liturgy by a friend. Since his ordination, he has ministered to Alzheimer's and Dementia patients at Arden Court in Wayne, NJ, and Excel Care in Dover, NJ.
Fr. Jim is excited and feels blessed to called to be a part of the Sacred Heart of Jesus ANCC parish family. He is enthusiastic to co-minister with Fr. Bernardo Cardona and to continue the growth and evangelical mission of the parish. He loves the honor and privilege of ministering to ALL of God's people and of continuing to make Sacred Heart ANCC a beacon of all-inclusive catholic presence for the Greater Kearny area. When Father Jim says "all are welcome" he means absolutely everyone, regardless of lifestyle or circumstance. You will find him to be a kind priest who is very approachable and keenly interested in each person he meets.
Fr, Jim currently lives in Dover, NJ. He entered the Conventual Franciscan community (OFM, Conv.) in August of 1976 at St. Joseph Cupertino Novitiate in Ellicott City, Maryland. After taking simple vows the following year in 1977, he began his studies in philosophy at St. Hyacinth College and Seminary in Granby, Mass. He subsequently left the seminary and started a career in the banking industry. Interested in computers and Information Technology, he acquired a position in a computer service firm, where he pursued his love of programming.
Father Jim was subsequently married, divorced, and annulled in 1991. Father Jim has been involved in various ministries in all the parishes of which he was a member over the years as an altar server, lector, Eucharistic minister, youth minister, music minister, baptismal catechist, he prepared young people for their First Penance and First Holy Communion, and also prepared teens for their Confirmation. He led a group for the separated, widowed and divorced, and was Eucharistic minister for the Respiratory Rehab unit at St. Clare's Hospital in Dover, NJ.
Father Jim achieved an undergraduate degree in Psychology from William Paterson University, a Master's Degree in Theology from St. Elizabeth University, a Master's Degree in Educational Administration from Scranton University, and a Master's Degree in Computer Science with a concentration in Relational Database systems from Colorado Technical University.
A bi-vocational priest, he currently works in IT for a small manufacturing company in Wharton, NJ. You may contact Fr. Jim at
jjakubowski@anccmail.org
.
Father Paul Gulya
(Pastor Emeritus- Retired)

Father Paul Gulya was appointed the pastor of Sacred Heart of Jesus parish in April 2017. Father Paul was one of the founding co-pastors of the parish in 2013 and most recently served as a supply priest for various parishes of the ANCC and also for other parishes in an ecumenical capacity.
He also served as chairperson of the ANCC national convocation in 2016, 2018, 2022 Convocation and will again in 2024.
Father Paul was ordained to the ministerial priesthood of Jesus Christ for the Roman Catholic Diocese of Bridgeport, CT in May, 1981.
He is a 1981 graduate of Mount St. Mary's Seminary and University, Emmitsburg, MD, from which he holds Master of Theology and Master of Divinity degrees.
Fr Paul continues as Vicar for Vocations for our national church, If you would like to contact Fr Paul, you may email him at pgulya@anccmail.org
.
Rev. Vincent McTighe
(Pastor Emeritus- Retired)

Entered Eternal Rest: June, 2022
Father Vincent was ordained a Roman Catholic Priest in 1972 for the Diocese of Paterson, New Jersey. He attended Immaculate Conception Seminary in Darlington, NJ, where he received a Master of Divinity degree. Fr. Vincent served in different parishes throughout northern New Jersey. He also was appointed the first Executive Director of the National Federation of Priests' Councils headquartered in Chicago.
Fr. Vincent held various management positions in North Carolina, Vermont and New Jersey. Most recently he was Human Resources Specialist for Community Services – Meals on Wheels – of Ocean County New Jersey, which provides nutrition programs and benefit screenings for the elderly, especially the home bound.
Father Vincent McTighe, was the co-founder of Sacred Heart of Jesus ANCC parish and headed the parish for several years.
May he rest in peace and rise to eternal glory.