________________________________________________________________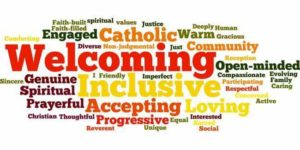 Sacred Heart of Jesus American National Catholic Church (ANCC) is an all embracing parish community of the American National Catholic Church. Sacred Heart of Jesus is a faith community in the Catholic tradition which embraces all into full participation in the sacramental life of the church.
We are a viable option for those seeking to feel at home in a valid Catholic community which strives to teach and live the Gospel of Jesus Christ. We try to fulfill Christ's admonition to love one another as God loves us. We are serious about making a difference in our world, and to that end make all of the sacraments of the Church available to all who ask. Our theology is informed by our belief that the Holy Spirit is calling us to participate in the re-creation and renewal of the Catholic Church. We trust that God has called us into existence to be a healing presence to those who feel that the Church has left them, and we welcome all to come home to a faith that lives and works in and through the People of God.
Sacred Heart of Jesus parish is a place for Contemporary Catholics, seeking to learn about God and God's will, to reach out and share what they have learned and experienced. Our parish is guided by the inspired work of Vatican Council II, as we are ever mindful of the Council's call to have the Church be the living Body of Christ in our world. We invite you to come and see what it's like being an independent Catholic.
No matter who you are or where you've been–
Sacred Heart of Jesus
American National Catholic Church
Join us for Catholic Mass every Sunday at 12:30 p.m.
in Worship Space shared with us through the generosity of
Graced United Methodist Community.